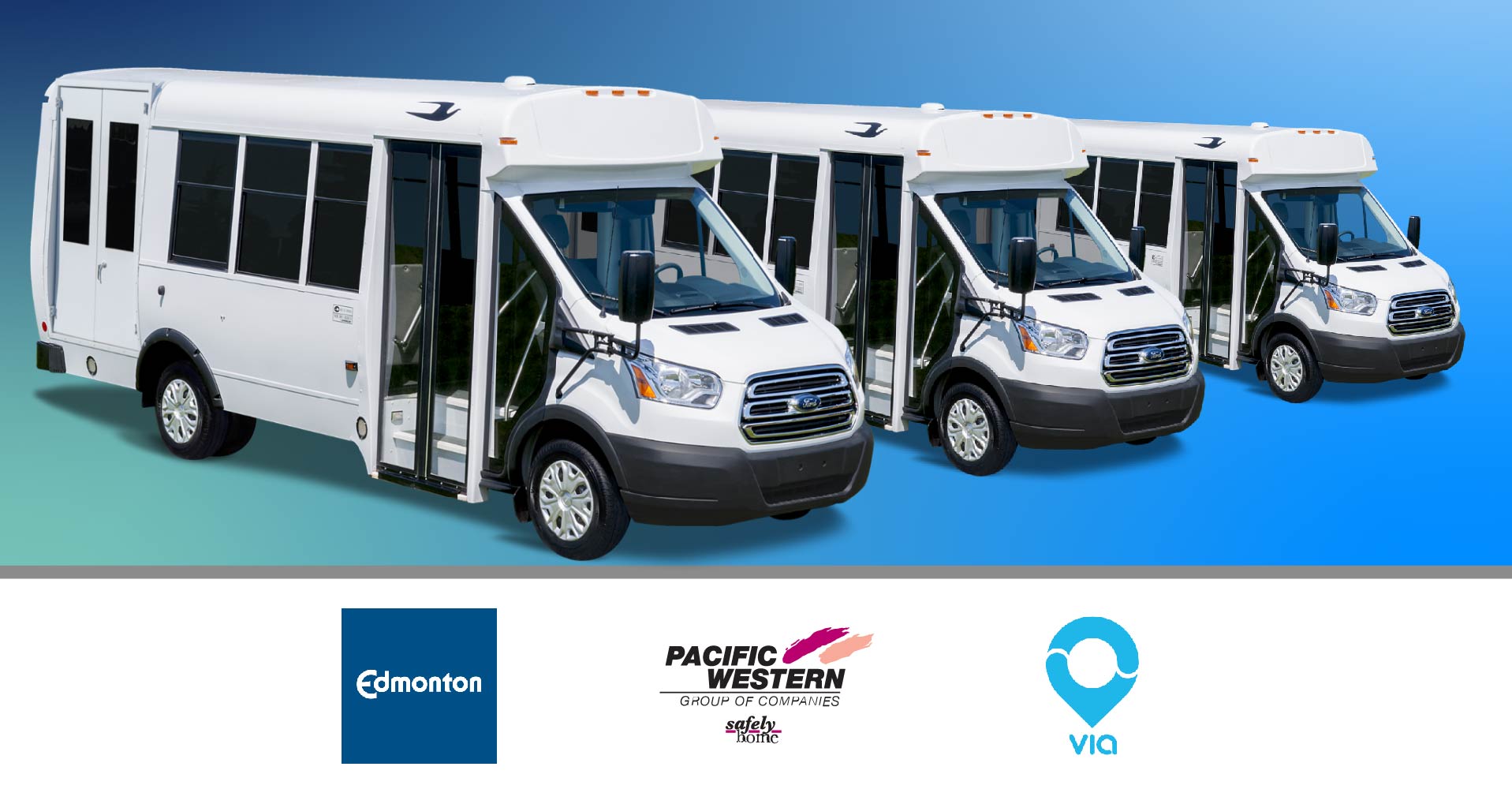 EDMONTON, AB, September 23, 2020 – To ensure all Edmontonians can connect to the City's new bus network next year, Edmonton Transit Service (ETS) has selected Pacific Western Transportation (PWT) and Via to launch Canada's largest On-Demand Transit service. A total of 57 shuttle buses will conveniently and safely connect residents in select neighbourhoods with a nearby transit hub. These accessible shuttles do not follow fixed routes and only operate upon request. The On-Demand Transit service, which will add a new layer to ETS' integrated transit network, is set to launch in mid-2021 and will be part of a two-year pilot project.
Edmontonians will be able to book a ride directly from their smartphone using an app, a telephone, or a website. A shuttle bus with a professionally trained driver will take customers from designated stops in their neighbourhood to nearby transit hubs. This shared ride service provides quick and efficient trips by using Via's advanced trip planning software to match multiple passengers headed in the same direction.
"As Edmonton continues to grow and evolve, we are looking for creative transportation solutions to keep our residents connected. That's one of the reasons we are excited to work with PWT and Via as partners to provide On-Demand Transit given their strong experience operating on-demand service in Western Canada and applying their technology globally," said Eddie Robar, Branch Manager of Edmonton Transit Service.
"We are immensely proud to partner with Pacific Western and the City of Edmonton to debut Canada's largest on-demand public transportation network, connecting more residents to transit than ever before," said Via CEO and co-founder Daniel Ramot. "Via's technology provides a flexible mobility solution that currently enables more than 150 partners around the globe to transform the way people move, using technology to usher in the next generation of mass transit. The launch of Edmonton's new on-demand service represents a milestone in Canada, and an opportunity for innovation-forward cities and transit agencies to follow."
PWT has been leading the Canadian new mobility market since 2017 by offering solutions in the realm of On-Demand Transit, Autonomous Vehicles, and Mobility-as-a-Service (MaaS) in Alberta, British Columbia, and Ontario. With its flourishing On-Demand Transit systems operating in Calgary, Cochrane, and Okotoks, PWT has the proven operational expertise and resources to successfully manage On-Demand Transit service in Edmonton.
"We take great pride and responsibility in being the leading operator of On-Demand Transportation in Canada and are excited to work with the transit industry trail-blazers at the City of Edmonton," said Greg Nichols, Vice-President of Transit with Pacific Western Transportation.
Edmonton's On-Demand Transit service will operate during peak and off-peak hours in approximately 30 communities and provide service to 18 large seniors residences. These sites, which were selected based on a number of factors, will be provided a flexible connection to the new bus network that is rolling out in mid-2021. Edmonton is one of many municipalities that are choosing on-demand transit options for neighbourhoods where it is a better fit than conventional bus service.
###
For more information visit:
Media Contact:
Pacific Western Transportation (PWT) 
Pamela Deadmarsh, Director, Communications Centre of Excellence Phone: 403-999-2604
BACKGROUNDERS: 
About Edmonton Transit Service (ETS): Transit service in Edmonton began operation in 1908 and today it's a fully integrated, progressive, easy-to-use public transit system that regularly provides over 80 million rides each year. Transit plays an essential role in city building so ETS is modernizing its system to provide safe, fast, convenient and reliable service to more Edmontonians. The new On Demand Transit service will complement the redesigned bus network rolling out in 2021 and the expanding LRT service. For more information, visit edmonton.ca/transit.
About Pacific Western Transportation (PWT): Founded in 1957, the Pacific Western Group of Companies is the largest privately-owned people transportation company in Canada. Today, PWT offers comprehensive transportation services and solutions across the country, with over 5,600 employees and numerous business locations. As an operator and integrator of mobility, the Pacific Western Group of Companies is proud to provide multiple innovative new mobility solutions that connect people and communities: Autonomous Vehicles, On Demand Transit, and Mobility-as-a-Service (MaaS). Our team of innovators and industry leaders are passionate about getting people Safely Home and giving back to the communities we serve. We pride ourselves on building lasting relationships, trust and transparency, and the PWT passion in our commitment to customer service and mobility solutions that we are so well known for. For more information visit pwt.ca.
About Via: Via is reimagining how the world moves, from a system of rigid routes and schedules to fully dynamic networks. Via's mobile app connects multiple passengers who are headed the same way, allowing riders to seamlessly share a premium vehicle. First launched in New York City in 2013, Via's technology is now deployed globally, including in Europe as ViaVan. Today Via and ViaVan partner with over 150 public transportation agencies, private transit operators, taxi fleets, private companies, school districts, and universities, seamlessly integrating with transportation infrastructure to power cutting-edge mobility. For more information, visit ridewithvia.com.