On Tuesday, April 26, Edmonton Transit On Demand celebrated one year of operations – and what a year it has been! We are halfway into this two-year pilot, and we have seen incredible growth and adoption of the demand-based transit model.
Edmonton Transit On Demand allows customers to book travel as needed, to be picked up and dropped off 9 different Edmonton Transit Hubs – allowing them to effectively transfer to traditional fixed-route service. Initially designed as a solution to connect 37 neighbourhoods and 16 seniors' residences that do not have a regular bus route, it has since been expanded to include riders in 49 communities.
Starting April 24, 2022 service was added and expanded to the following neighbourhoods: Uplands, Stillwater, Glenridding Ravine, Balwin, as well as portions of Albany, Canossa, Rapperswill, Chambery, Elsinore, Klarvatten and Kinglet Gardens.
On Demand Transit bus stops were added to Cavanagh and Henderson Estates, and riders going to/from the Montrose community can now request service to/from Belvedere Transit Centre.
The On Demand Service was launched as part of Edmonton Transit's redesign of its traditional fixed-route bus routes, adding a new service layer to their integrated transit network. The growth and adoption of the service have been evident in its expansion, but let's dig into just how well it has performed over the last year:
Rides completed in the first full week of operations (April 26 - May 2, 2021)
Rides completed in the most recent week of operations (April 4 to 10, 2022)
These numbers reflect a 655% increase in ridership from start of project to present.
Rides completed in the first full month of operations (May 2021)
Rides completed in the most recent month of operations (April 2022)
These numbers reflect a 462% increase ridership from start of project to present.
Ridership Growth
We have had a ridership growth rate of 18.85%, per-month, on average from May 2021 to March 2022.
Record Ridership
For 17 days in 2022, the on-demand service transported more than 1,300 rides daily.
Pick-up Times
The average pickup ETA remains below ten minutes despite increased ridership (see below graph)

Customer Rating
Throughout the year we have maintained an average ride rating of 4.8/5.0
On-Time Performance
Average on-time performance remains 95%+, including an average trip pick up time deviation of less than one minute
Walk Distance:
The average walk distance to stop has decreased as stop tweaks have been made (see graph below)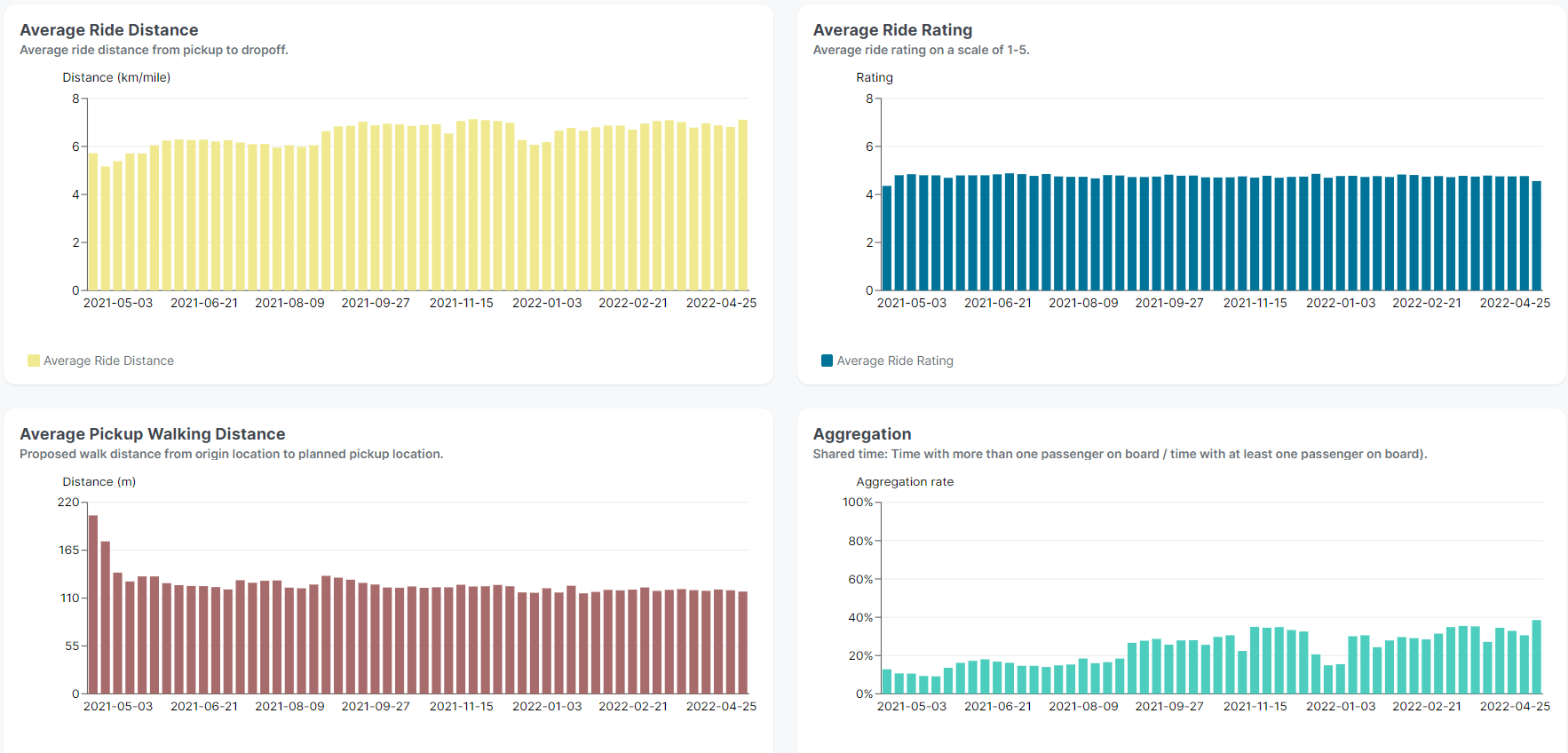 We are proud to be a part of Canada's largest On Demand transit service and are excited by the successes we have seen in the first year. We look forward to the promising possibilities of expansion into other communities – connecting people and communities is vital to our mission to be the Service Provider of Choice.
An integral part of building a sustainable future for transportation is creating strong partnerships that foster innovative and future-focused transportation solutions. It is our people who make these solutions a reality. Thank you to the drivers, office, and call centre staff who work tirelessly to deliver this service. Because of your hard work and dedication to your community and clients, we see successes like this across our divisions each day.
Connect with us to see how we can implement an on-demand transportation solution for your community or municipality: