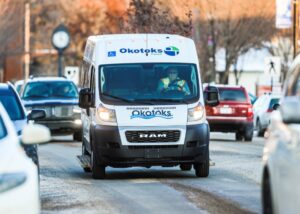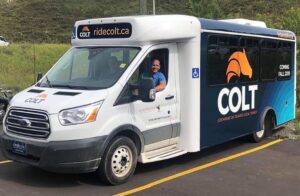 Over the years we have been developing and refining our on demand transit services. In a lot of small towns across Canada, on demand is becoming the new standard for public transit and PWT has quickly become a Canadian leader with our full-service, and customizable, planning, implementation, marketing and operations.
In small communities, traditional route-based transit services are often running with low ridership and limited routes. This is inconvenient for customers, expensive, and has a negative impact on the environment. On demand is a great alternative that allows for an affordable and efficient public transit system, tailored to the needs of a specific community.
As on demand transit continues to grow, PWT has been working closely with the Town of Cochrane and the Town of Okotoks to create custom on demand systems. So far, these services are a roaring success. Both towns are small, but fast-growing, creating a huge demand for public transit services.
COLT, Cochrane On-demand Local Transit launched on October 7, 2019. COLT is a 100% on demand transit system servicing the entire Town of Cochrane, the first of its kind in Canada. There are 145 virtual stops and it accommodates children, infants, wheelchairs, and bikes. For the citizens of Cochrane, scheduling a trip has been made easier than ever with the mobile app, website, and over-the-phone booking options. These extensive features make the service convenient and accessible to everyone in the community.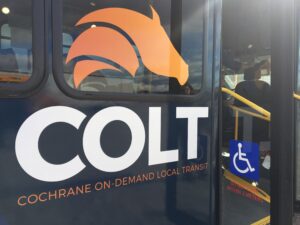 Here's how it's doing:
Over 50,000 passengers transported to date
14.09 min average trip
4.6/ -5.0 passenger rating
95% on-time performance
The Okotoks On-Demand Transit service launched on December 2, 2019 as Okotoks' first-ever public transit system. Just like COLT, the Okotoks system accommodates children, infants, wheelchairs, and bikes and can be booked on the mobile app or through the call center. Okotoks is unlike any other due to its curb-to-curb service within city limits.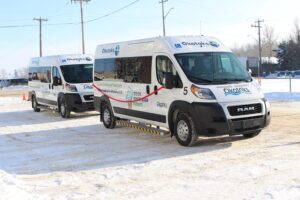 Let's check out the stats:
Over 40,000 passengers transported to date
8.6 min average trip
4.7/ 5.0 Passenger rating
98% on-time performance
As leaders in the people transportation industry, we are connecting more communities in North America with on demand transportation solutions. Visit our On Demand page to learn more about how PWT could transform mobility in your community.