Safety & Training

Safety is our first Core Value, informing and guiding everything we do.

Our commitment to world-class safety means fostering a safety culture where each person is accountable for the safety and well-being of all and ensuring our people and passengers arrive Safely Home, each and every day.
Safely Home is our deep conviction to Safety, and the ultimate promise we make to each other, to our clients, and to the communities in which we operate. The Pacific Western Group of companies is driven by safety. It is our first Core Value and is at the heart of all that we do.
Our safety and training programs provide our people with the knowledge and skills to perform their work to the highest safety standard.
PWT's Journey to World Class Safety
There really isn't much material available dealing with the day-to-day challenges of bus and motorcoach safety.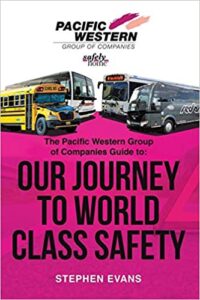 Our approach to Safety at Pacific Western has been:
Keep it simple
Keep it real
Keep it clear
Keep it positive
By former VP of Safety, Stephen Evens, this book provides an overview of the progress made by the Pacific Western Group of Companies as we pursued "Our Journey to World-Class Safety." It describes the programs, initiatives, approaches, and style they used to accomplish this objective.
PWT'S safety and training programs reinforce our commitment to world-class safety and our dedication to being the employer and service provider of choice.
Safely Home is our unifying brand for the Pacific Western Group of Companies. It unites us with a common purpose and is the foundation of our world-class safety mission.

Centre of Innovation and Excellence (CIE):  The Edmonton-based centre provides specialized behind the wheel and online training for our drivers across all lines of business. 
Mobile Training Unit (MTU): The MTU is North America's first mobile training simulator for school bus and coach drivers. Utilizing the same technology that the aviation industry employs in pilot training, the MTU offers drivers a simulated driving experience that duplicates the experience of operating a variety of our buses.
Key Performance Indicators (KPIs): Our KPIs are used to measure the overall performance of our operations, including safety.
Nationally Recognized Driver Training Program: Our driver training programs are nationally accredited by the Motor Carrier Passenger Council of Canada (MCPCC). All drivers are trained to the highest standard, including the new Alberta Government Class 2/2S MELT program.
NSC and COR Audits: All PWT divisions undergo routine National Safety Code (NSC) and Certificate of Recognition (COR) audits. These certifications are audited annually internally, and audited externally every 3 years. The COR audit process monitors workplace occupational safety and the NSC Audit monitors compliance with commercial vehicle standards. These thorough audits of our procedures and practices ensure operational compliance on an ongoing basis.
Partners in Compliance (PIC) Member: PIC is a joint venture between Alberta Transportation and the Alberta Motor Transport Association. As Alberta's highest roadway safety ranking, the PIC program unites, recognizes, and rewards transportation professionals.
CENTRE FOR INNOVATION AND EXCELLENCE
"Our mission is to exceed customer expectations by employing talented people who share in the dedication of a company committed to Safety and Service."