Sustainability
PWT is focused on continually reducing emissions and minimizing environmental footprint. 
Environmental sustainability is an essential aspect of Pacific Western Transportation's corporate culture.


The passenger transportation industry is inherently sustainable.
As a leading provider of people transportation services in Canada, PWT is at the forefront of the global effort to get cars off the road in favor of more efficient modes of transit. Using innovative thinking and state-of-the-art technology, PWT is focused on continually reducing emissions and minimizing the footprint of our operations. Evolving alternative fuel advancements have the potential to revolutionize the transportation industry and our dependencies, investments, and environmental impact. PWT prioritizes the diversity of fleet fuel capabilities based on available technologies and continues to introduce these non-traditional fuel elements into our operations.
Propane:
PWT's Student Transportation line of business has been utilizing propane as an alternative to diesel fuel since the 1980's. We currently own and operate the largest propane-fueled fleet of school buses in all of Canada. As of 2020, this fleet has grown to a total of 850 buses! Not only is this initiative operationally viable, but it is a proven solution to reduce toxic emissions.
By using propane buses, we have removed 3,229 metric tonnes of CO2e from entering the atmosphere in 2019 alone. That's equivalent to preventing 686 passenger vehicles from being driven for a year.
Our propane fleet helps us reduce Greenhouse Gas Emissions by 44% when compared to diesel.
In the event of a leak, propane becomes a vapor that does not contaminate the soil, air, or aquifers.
Propane emits 60% less carbon monoxide than gasoline, 98% less particulate matter than diesel, and contains virtually no sulfur.
PWT's Student Transportation line of business ranks as the largest propane fleet of school buses in Canada: our propane fleet acquisition and expansion required the creation of new training programs for both maintenance personnel and operators. It also required significant additions to the current infrastructure to expand its refueling capacity.
As a private school bus contractor, we are the second-largest propane fleet in North America: because of the nature of the precious cargo we carry Safely Home, every day, we have a constant reminder of what truly matters. This is why we are dedicated to creating a sustainable future for our planet, and why it's at the forefront of our day-to-day operations.
Our fleet of propane vehicles has contributed to the market expansion of proven clean fuel: the use of propane as alternative vehicle fuel resulted in the revision of Canadian legislation and standards, namely MVSR, CMVSS, NSCS, and CSA D250-16. Changes have also been introduced to Canadian legislation so propane can be easily dispensed at fueling stations across the country.
Propane buses were brought in because of their potential to become an efficient alternative to diesel fuel: in 2017, overall school bus sales in North America show propane as the most popular alternative fuel accounting for 6% of the market. The Alberta Energy Regulator forecasts propane's demand will continue increasing from 2018 to 2025 by 14%.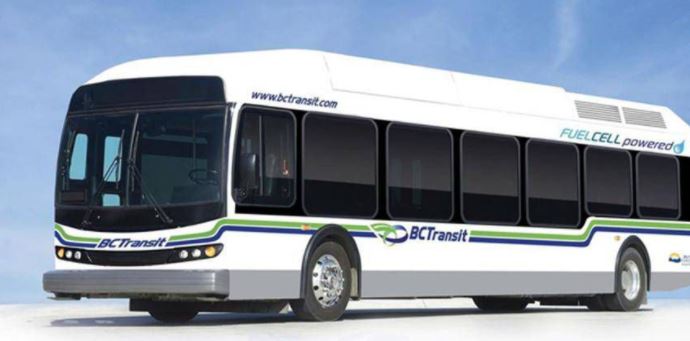 Hydrogen Fuel Cell:
Our Transit line of business has been exploring electric fuel options for many years. Hydrogen Fuel Cell is state-of-the-art technology that produces zero carbon emissions and emits only H2O (water vapour) as exhaust. The annual reduction of 2,200 tonnes of carbon released into the atmosphere as compared to conventional diesel buses, the safer regenerative braking system, and an exceptionally quiet electric motor result in these hydrogen fuel cell buses being a tremendous leap forward in green technologies. As part of a joint Federal and Provincial pilot project, Whistler Transit Ltd. (a division of PWTransit) is responsible for operating and maintaining 20 Hydrogen Fuel Cell buses – the largest fleet of its type in the world.
Electric Buses:
Electric buses are powered through the charging of a battery, storing the electrical charge to enable the vehicle to operate. As with any battery, they  require recharging upon depletion, but this is typically done at recharging stations in-between uses. They run very quietly and contribute to lower operational costs and greenhouse gas emissions. Charging can take less than 3 hours and costs are equivalent of approximately $0.09 per kilometer to power. Since 2016, PWTransit has been operating a fleet that includes several battery-electric buses in St. Albert, Alberta.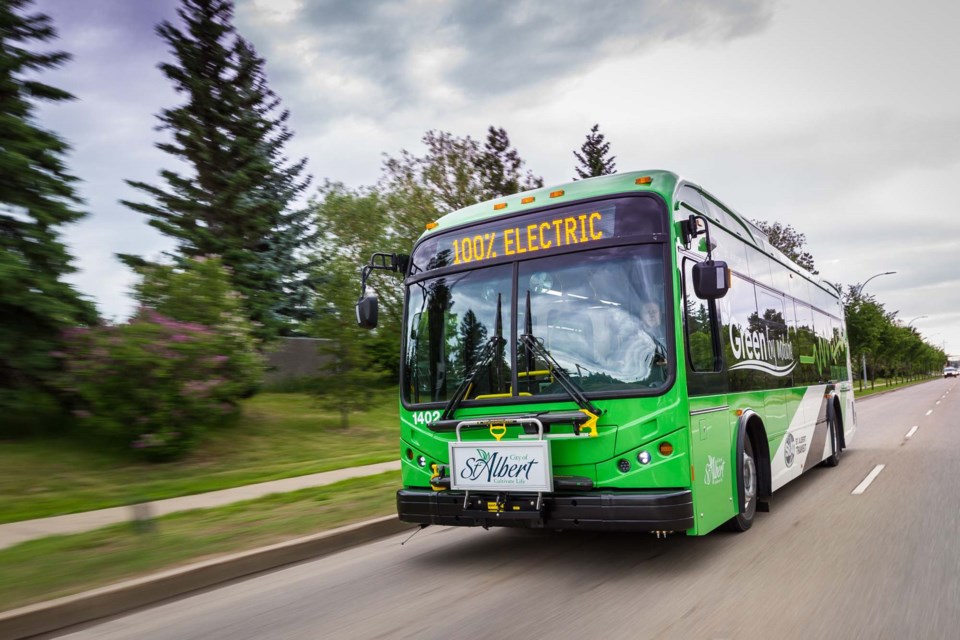 "Our mission is to exceed customer expectations by employing talented people who share in the dedication of a company committed to Safety and Service."