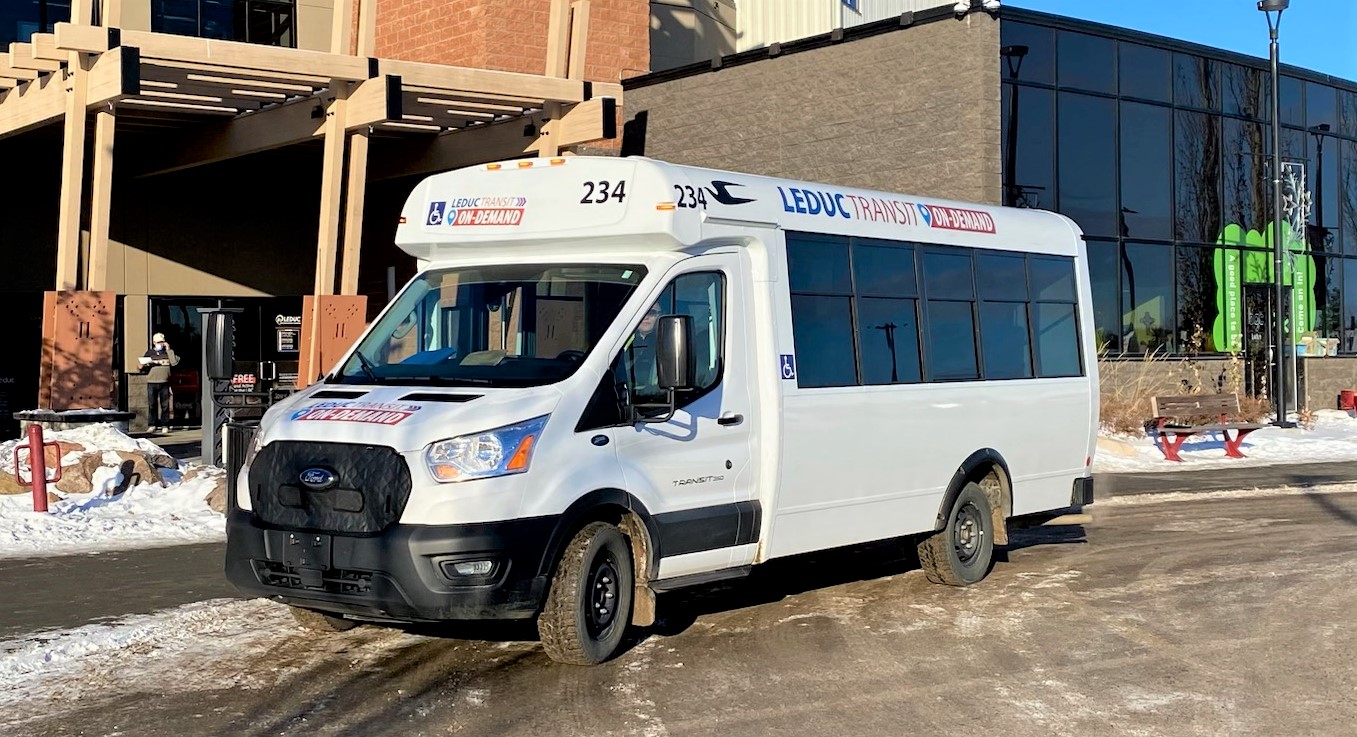 The City of Leduc, Alberta, has seen some pretty big changes in the last decade. The community located 33 kilometres south of Edmonton has seen a major boom in population – from 24,279 in 2011 to over 34,500 in 2021.
The influx of new residents caused a strain on city services, including the traditional transit system launched in 2014, which is operated jointly with Leduc County. The local service only offered 42% coverage across the city. To address those gaps, Leduc Transit replaced four local fixed routes with a revolutionary on demand service in the summer of 2021 and has never looked back.
Leduc residents now enjoy 100% coverage, with 450 flex stops throughout the City of Leduc, Leduc Business Park and Nisku Business Park. Instead of operating only in peak periods, transit service is now available all day long – Monday to Friday, 5:00 AM to 7:00 PM. Kevin Wenzel at Leduc Transit says the switch to on demand has resulted in a massive spike in ridership.
"Ridership has gone crazy. To date, we've carried over 30,000 people," says Wenzel. "Comparing June 2020 – July 2021 ridership with the first year of on demand when it was launched in August, to now – there was a 252% increase in ridership. The second significant piece would be, comparing those two timelines, our cost per passenger has dropped 47% from $51.72 to $27.60."
While the COVID-19 pandemic played a significant role in the public's ability to access public transportation, the dramatic difference in ridership is still quite impressive, especially when you consider how many people continue to work from home or utilize a hybrid/office schedule.
On Demand Service is Tailormade for Smaller Urban Populations
Planning exactly where to place bus stops in a fixed-route system can be a major headache for smaller cities and local residents who lament the loss of parking and are left with a bus shelter built in front of their property.
On Demand transit utilizes no-hassle flex and virtual stops. These can be added, removed and placed anywhere, while fixed route service is married to a particular location and schedule. Leduc Transit is also working with the city's Economic Development staff to reach out to local businesses that have employees stuck without a mode of transportation.
"With on demand service, we can set up virtual stops – if we don't already have it in place – right by their business and bring them to and from work five days a week."
Municipalities that utilize on demand also see major cost savings due to the size of the vehicle required – goodbye large transit buses, hello shuttles.
PWT Has the Solution for Communities Switching to On Demand Transit
Pacific Western Transportation provides the vehicles and drivers for Leduc Transit, and Wenzel says they've installed a great team to serve the community's transit needs.
"PWT has been absolutely fabulous with maintaining all of the service that we need. I have very high praise for them. It's a really good group of drivers, and the manager has been fabulous to work with. The gang at PWT has been bang on. They've kept their promises, and along with the team at RideCo, helped find solutions when I didn't think there were any."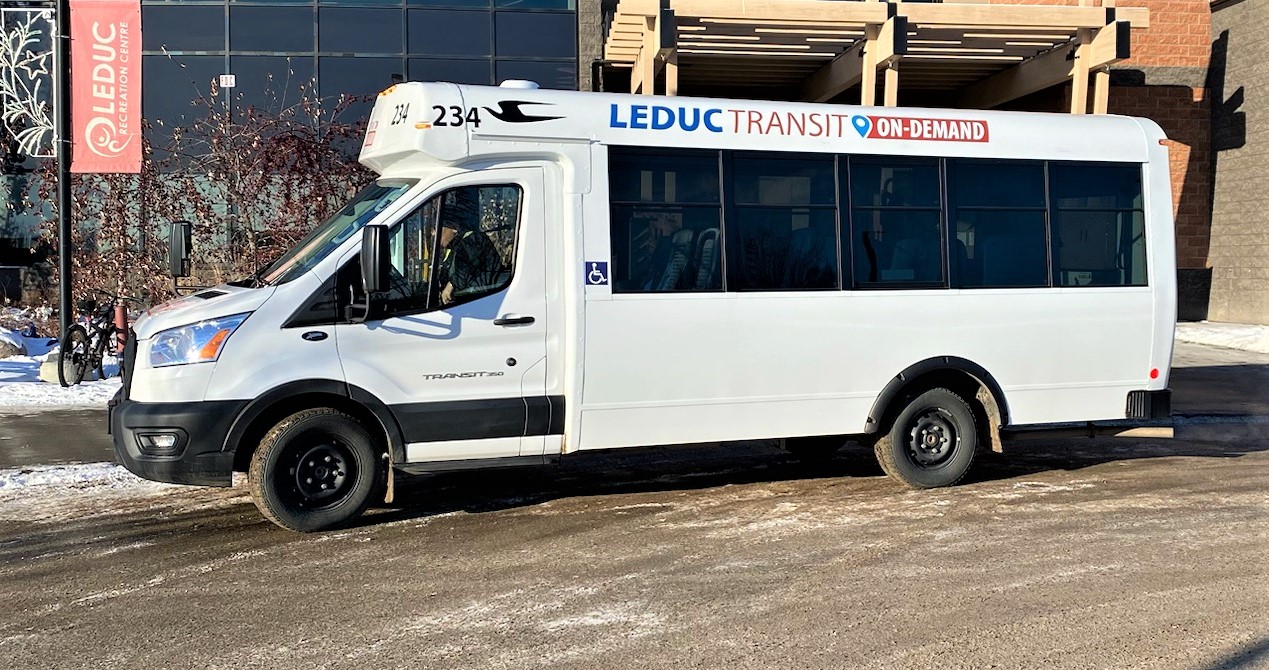 Leduc's on demand transit system uses technology owned by Pacific Western Transportation and a mobile app called Pick-Up On-Demand – powered by RideCo. Customers can book trips up to two weeks in advance and on demand using the mobile app, a web portal or over the phone.
Pacific Western Transportation makes transitioning from a fixed-route local service to a demand-based incredibly easy. PWT provides all call-taking and reservation services for the system using its Calgary-based call centre to minimize the expense associated with dial-in trip bookings.
On Demand is the Future of Local Transit
Fixed route transit is always looking for riders to avoid empty buses but with on demand, people have booked those trips, so you know where they are and where they are going. The data compiled by all of those recorded trips is a valuable tool municipalities can use when planning schedules that cover the entire community.
The switch to on demand has been such a success that Leduc Transit is looking at potential ways to expand the Monday-to-Friday service to include weekends.
"What we're looking at right now is the potential to coordinate with our paratransit service because that does operate seven days a week. We can see if there any synergies, benefits, or cost efficiencies that can occur. We're trying to figure out a way to expand it, so stay tuned for that."
Leduc Transit made the switch in July 2021, and with the help of Pacific Western Transportation, the on demand transit service has been a major success story – with incredible growth in ridership and excellent customer satisfaction.
"For municipalities that are launching a transit service in their communities, I think that the best way to start out would be doing some kind of on demand service," Wenzel adds. "That way, you're covering the whole community, and you can pull the data to see where the ridership is coming from. If this technology had been available in 2014 when we started Leduc Transit, we would have gone with on demand. There are just so many benefits."
Cost Per Passenger After 15 Months of Operations
August 2021 - November 2022
These numbers reflect a 47% decrease in cost per passenger
Ridership & Hours in Service Growth
Since the launch of On Demand Transit in August 2021, ridership on Leduc Transit has increased 252% and has seen a 60% increase to hours in service from 8.6 to 13.8 hours.
On-Time Performance
Leduc's On Demand transit service delivered an impressive 96% on-time performance, with 107 average passengers per weekday – an average of 3.9 passengers per vehicle hour. 450 flex stops with an average of a 5-minute pickup wait time.
Customer Satisfaction
Customer satisfaction has remained consistently high, with an average ride rating of 4.83 out of five for the over 30,000 total trips delivered.
*statistics courtesy RideCo Leduc Case Study
Connect with us to see how we can implement an on-demand transportation solution for your community or municipality: